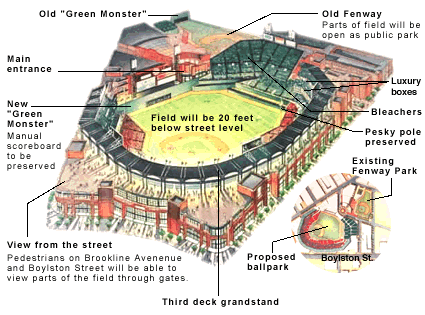 So somewhere admist the media swarm around Belichick yesterday, the Sox slipped in a sting of their own,
upping ticket prices around the park
. The annual raising of ticket prices at the Fens is about as clockwork as me forgetting where I put my keys every morning. The instinct is to complain. Complain about the prices. B*tch about how they've priced out Joey Superfan in favor of Joe CEO and his corporate account. But I have long moved on from that. These days I only go to games when a friend of a friend of a friend of a cousin of a contractor offers up his season tickets for the night because he has to go to a "contractor convention". Yup, the nostalgia of Fenway has become stale for me, and everything I need from a live baseball game can be delivered to me via crystal clear HD television. Shrink my couch to an 18-inch wide wooden chair and throw an obnoxious fat guy next to me and I feel like I'm there.
But the raising of ticket prices got my 4 brain cells twirling around. As you know, the Sox have one of the
smaller stadiums in baseball
, thanks to the horrible foresight of the designers in 1912 not knowing Major League Baseball would become a cash cow. So the owners have to make every seat count, and inevitably make it one of the most expensive parks to entertain a family for the night. And when the bidding for the Sox franchise took place in 2001, several of the pontential owners, including present Dodger owner Frank McCourt, planned to build new stadiums for the local nine, thereby bringing in a massive revenue stream for the team and city. But alas,
John Henry and his cronies won the battle
and purchased the Sox for a mere $660mil, promising to keep the current Fenway, but cake on layers of make-up. They of course made good on that promise,
hired this woman
, and transformed Fenway from an eyesore into a restored landmark, albeit an even more crowded one. Its difficult to picture how awful the pre-renovated version was until you see a replay of some archived game on NESN. Once you get over the shock of seeing a skinny Roger Clemens, you realize how incredible the stadium looks now compared to that patchwork dungeon Fenway used to be. (you obviously can't see the trough toilet rooms on TV, but that was the most charming feature.)
So what am I babbling on about? Well, I want a new stadium. Sure, this is being fueled by the fact that its mid-November, the Yanks just won the world series, and I have no interest in the
2010 free agent class
. But since baseball and buildings are favorite topics of mine, I always enjoy a conversation on the possibilites of a new stadium. I mean even looking through
this website
is an odd pleasure for me. Now I know the Henry/ Werner/ Luchhino team have vowed to stand by their renovations for the next decade plus (including the 100-year anniversary of the stadium in a couple years), but just think about the fun and anticipation of building a new Fenway. Where would it go? How would you recreate the monster? How many stripper poles do you put in the Remy-Orsillo crow's nest? All awesome things to ponder.
Thoughts, suggestions, detailed floor plans go in the comments section.